Your perfect bride deserves the perfect three stone engagement ring. She needs a ring that reflects her dazzling personality, her sparkling wit, and her steadfast loyalty to her future husband—you. Make her eyes sparkle with the light of her heart by showing her she's not just special—she will soon be your wife—with stunning and gorgeous three stone engagement rings. Here are some ideas to keep in mind, listed below.
Stunning and Gorgeous Three Stone Engagement Rings
1
Tanzanite and Diamond Engagement Ring
Our first delightful little stunner is this tanzanite and diamond engagement ring, which is the perfect complementary piece to the woman with delicate hands and features and blue eyes. Set in white gold with a ¾ karat tanzanite gemstone, this delicate dazzler is sure to make her heart flutter!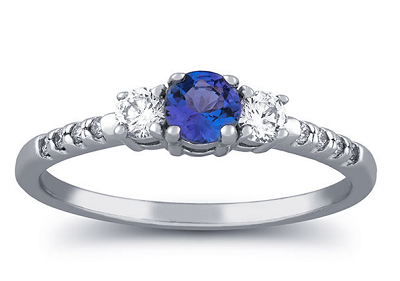 2
Crowning Three stone Engagement Ring
You'll be the king of her heart with this crowning three stone engagement ring that is fit for a queen! The center diamond is nearly 2 karats, off-set with two smaller round-cut diamonds and small pave halos that are sure to delight her! So it must be on our list of stunning three stone engagement rings.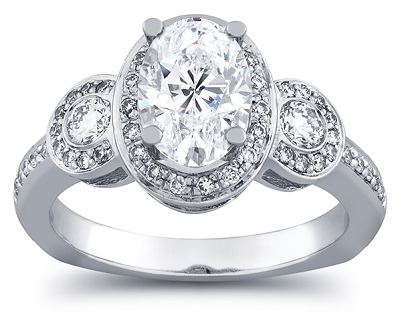 3
Cut ¾ Karat Three Stone Engagement Ring
She'll feel like the perfect princess—your princess—when you slip this princess-cut ¾ karat three stone engagement ring onto her finger! Set in pure white gold with two quarter-karat round diamonds, this stunner is sure to make her heart skip a beat!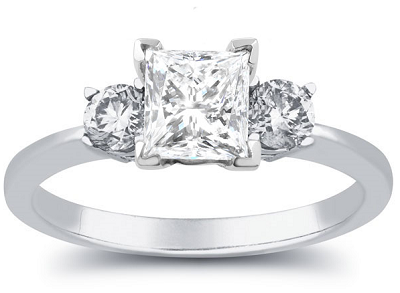 4
1 Karat Pink Sapphire Three Stone Engagement Ring
Perfect for ladies who love pink, let her wear her signature color with this 1-karat pink sapphire, surrounded by two smaller diamonds and set in white gold. She'll love the compliments she receives when she wears this engagement ring! There is also a yellow sapphire off-set you can choose.This delicate, pink beauty is sure to impress her.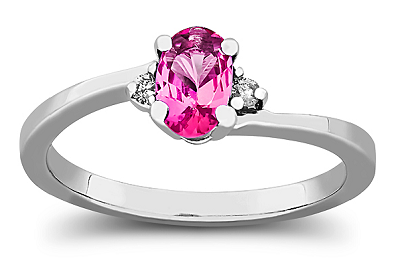 5
Three Stone Stunner
As part of the Past, Present, Future collection, this three-stone stunner is sure to please your future wife! Boasting a 2-karat diamond surrounded by more diamonds, this ring will remind her of the deep love you share for one another, now and forever.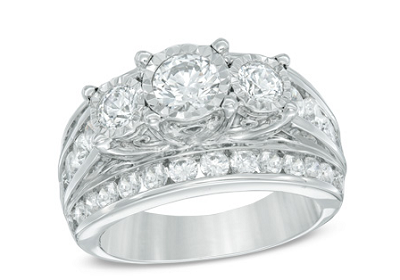 6
Emerald Cut Three Stone Engagement Ring
This lovely little emerald-cut ensemble will thrill her! Set in white gold with emerald-cut diamond accents, this diamond-studded dazzler will make her pulse race and her heart beat faster every time she wears it, both before and after the wedding!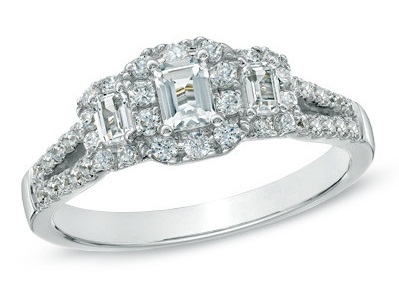 7
Bypass Three Stone Engagement Ring
For the bride who cherishes tradition but isn't afraid to show her unique character, this three stone engagement rings are perfect!This elegant yet understated little beauty, set in more traditional yellow gold, has three small round-cut diamonds set in a graceful diagonal setting with open-wave accents on either side.
8
Round Cut Three Stone Engagement Ring
For the bride who appreciates more understated, antique-inspired settings, this little engagement ring is a pleasant, retro-fabulous surprise! Sporting three 1/5-karat round-cut diamonds, this little stunner is for the bride who appreciates the past while focusing on her future—with you!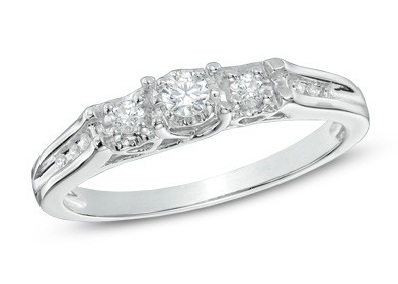 9
Triple Crown Three Stone Engagement Ring
Show her she's the queen of your heart with this triple-crown, three-stone diamond engagement ring, boasting three ½-karat diamonds and composite diamonds surrounding them. Set in elegant white gold, she can wear this ring with pride and show the world what a fine husband you are!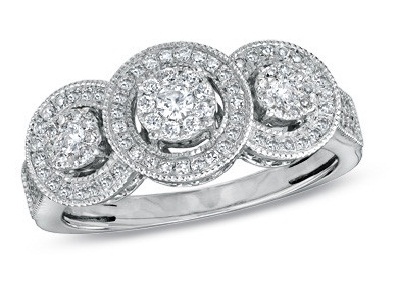 10
Classic Three Stone Diamond Engagement Ring
This modern take as one of the classic three stone engagement rings is sure to inspire admiring glances and occasional bouts of envy. With its smooth platinum finish and three brilliant round-cut diamonds, this little stunner is perfect for any bride of any age.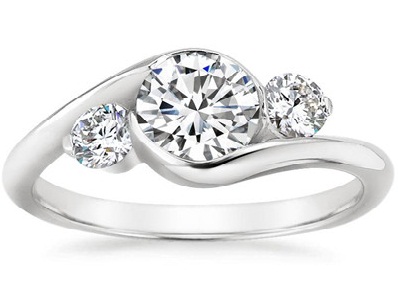 11
Trapezoid Shaped Three Stone Engagement Ring
This unique three-stone engagement ring has many unique features—set in platinum with two trapezoid-cut diamonds setting off the larger middle stone, this engagement ring is a classic in the making, and is sure to become a treasured family heirloom as the years go by.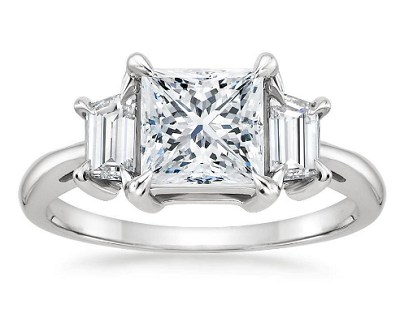 12
Three Central Diamonds Engagement Ring
Yet another sleek, modern design that harkens back to a more fabulously elegant time period, this ring has three central diamonds, but also has smaller diamond chips set throughout the band. The band also features a distinctive swirl pattern on the main setting, elevating the center round-cut diamond and making for a perfect fit when the wedding band is placed on her finger.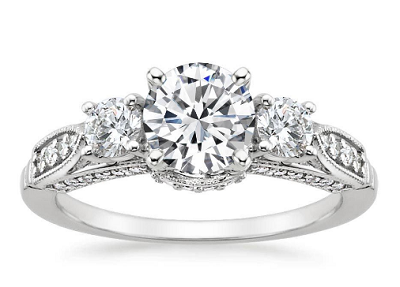 13
Olivetta Diamond Three Stone Engagement Ring
This lovely little design is understated, but makes a big impact on women who are refined and elegant, and who have impeccable taste in jewelry. The round-cut diamond is placed gently into a basket setting, with two smaller diamonds nestled into a triangle setting on either side. This ring is as unique and refined as she is!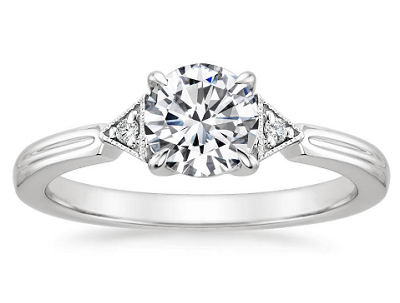 14
Three Stunning Round Cut Diamonds Engagement Ring
This eye-catching beauty is sure to light up her eyes the same way you light up her heart! Three stunning round-cut diamonds are set into a band with smaller channel-set diamonds on either side. This ring is small but lovely, and symbolizes your love for one another!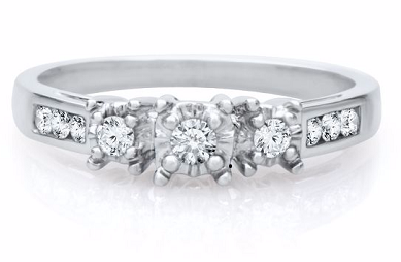 15
10-Karat Yellow Gold and Diamonds Engagement Ring
For the future bride who loves a classic, traditional three-stone engagement ring that will never go out of style, you certainly can't go wrong with this beauty, set in 10-karat yellow gold and boasting three round-cut diamonds surrounded by channel-set, narrow-cut baguettes.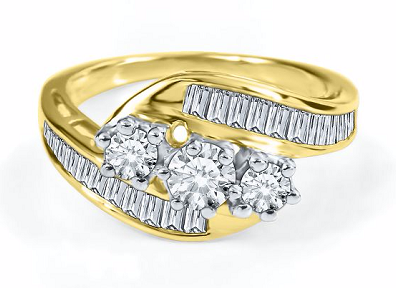 16
Princess-cut Basket-set Three Stone Engagement Ring
Stunning in its simplicity and refined in the most elegant and tasteful way, this princess-cut, basket-set three-stone engagement ring is destined to become a classic the more she wears it! Set in white gold, this beautiful ring will thrill her more each day!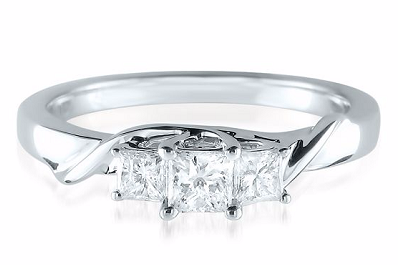 17
Teardrop-cut Three Stone Engagement Ring
This is one of the most unique and unusual of three stone engagement rings you may ever see. Set in white gold, it looks as though there truly are only three stones—but wait. Beneath the main teardrop-cut stone is nestled two smaller diamonds, right at the base of the setting basket. Elegant and unusual!