Much anticipated, Pomellato has revealed its latest dazzling array of Pom Pom jewels, its most precious creations for the year. Using its signature bold colour palette and daring volumes, the new arrivals are Pomellato to the core. Elevated to the realm of haute joaillerie thanks to the quality of the stones and craftsmanship, each of them is a one-off or very limited production.
Adding to the tempting proposition presented by the mouth-wateringly rich hues of the rings, bracelets and earrings, clients who buy a Pom Pom jewel through our website by clicking here will be invited on a two-night stay in Milan for two to visit the famed workshops and enjoy Italy's most stylish and food-obsessed city. The lucky travellers will be welcomed at Pomellato's Milanese workshops to witness first-hand the creation process. An invitation that is open until 10 January 2017, Pomellato will cover plane tickets and accommodation at a luxury hotel. From first sketch on paper to final polishing, a team of over 100 skilled craftsmen and women creates eat Pom Pom jewel entirely in-house, a fact Pomellato is rightly proud of and wants to share with its most-valued customers.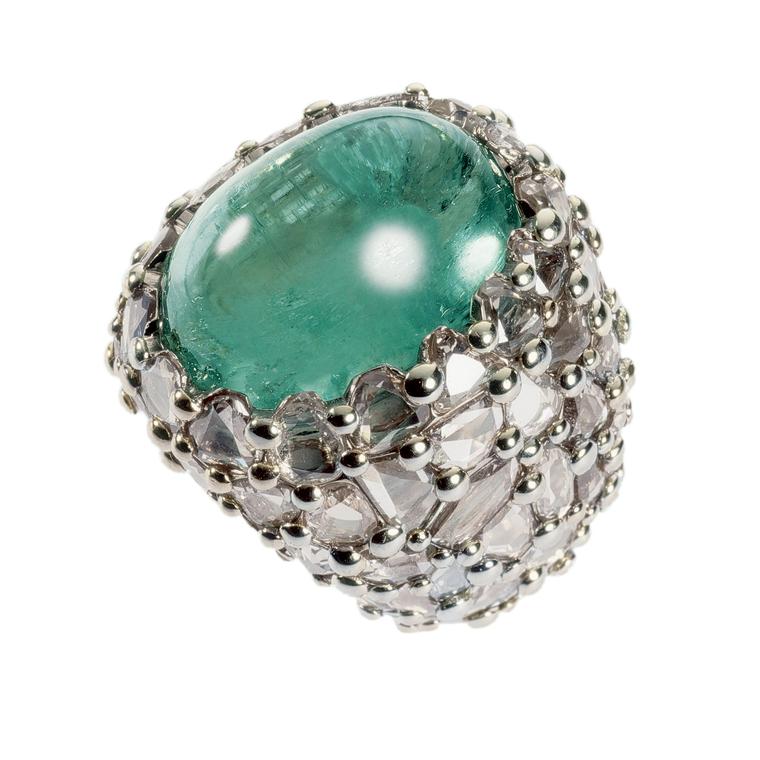 Known for its easy-to-wear everyday jewels, Pomellato was founded in 1967, a time of great social change when women were not only burning their bras but changing the way they dressed and presented themselves to the world. Jeans became the new uniform and Pomellato's bold, unfussy jewels slipped right in with the brave new look of the time. Remaining faithful to the original design criteria, over the decades Pomellato has mellowed into becoming one of Italy's favourite jewellers with a penchant for succulent coloured gemstones, highly stackable and collectable rings and chunky gold chains that have become Italian wardrobe essentials.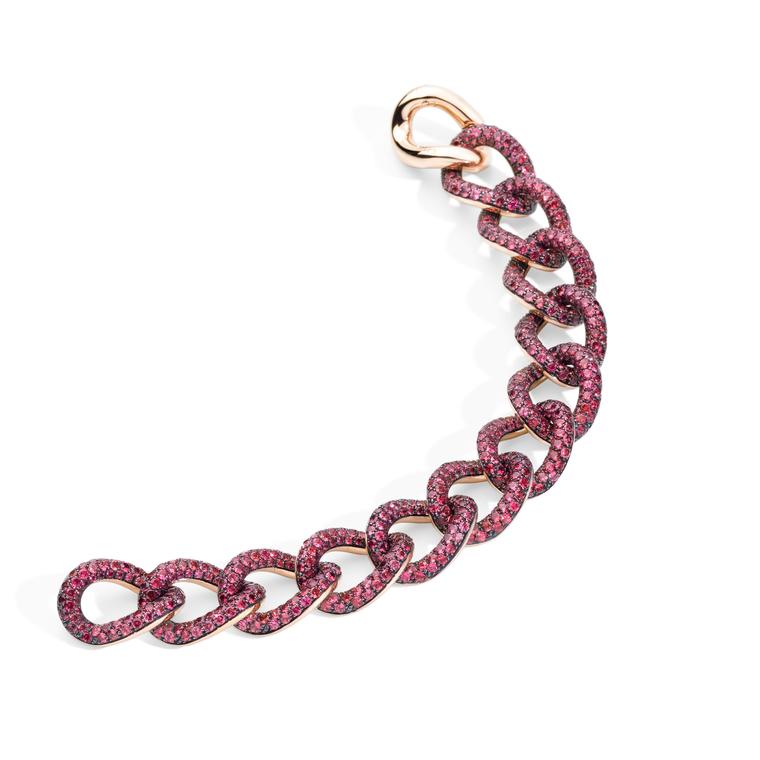 The outsize proportions take the cocktail ring to new heights of glamour, serving up a bright crush of pink tourmalines and diamonds, or milky moonstones with velvety-blue sapphires.This year's Pom Pom collection is an explosion of colour.  As if lit from within, a dome of green beryl glows at the centre of an elaborate white gold mesh, dotted with 79 old mine-cut diamonds.
Pomellato's famous chain bracelets are treated to a dusting of fiery red spinels, zesty demantoid garnets, deep-green emeralds and blue or orange sapphires. Great skill and finesse is required from the jewellers to entirely set the bracelets with precious stones yet maintain a smoothness and movement between the links. This is where Pomellato's decades of experience and savoir faire in casting and gem-setting techniques is evident. The bracelets are all made from Pomellato's propriety alloy of rose gold, mixed crucible by crucible in its in-house foundry to create the rich glow it is famed for. With a wink to the latest trend for hoops, mandarin garnets adorn a pair of rose gold earrings.
As CEO Sabina Belli says: "Pomellato jewels are not a financial investment but a choice from the heart and spirit." And I challenge you not to feel a tug in your heart on seeing these delectable jewels, which beam out confidence and optimism.